Parcl Secures Strategic Investments
by Harry
Jun 4, 2022, 8:57 am
Interview with co-founders Trevor Bacon, Kellan Grenier and Jason Lewris.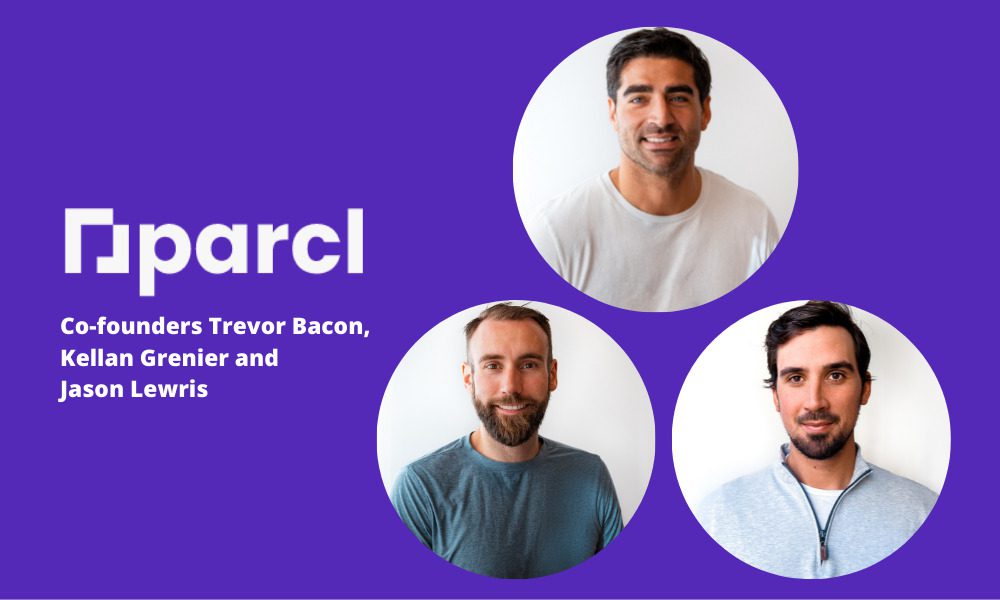 Blockchain-based real estate platform Parcl allows users to invest in a digital square foot of physical real estate in the most desirable neighborhoods. The business recently announced a $7.5M strategic funding round, with new investors including Fifth Wall (the firm's first venture into web3) and JAWS, family office of Barry Sternlicht. In this interview with TechBullion, Parcl co-founders Trevor Bacon, Kellan Grenier and Jason Lewries will be sharing more of their success stories with us.
Please tell us more about yourselves?
Trevor Bacon: I'm the current CEO of Parcl, a blockchain-based platform that allows users to invest in a digital square foot of physical real estate in neighborhoods around the world. I have seasoned experience as a portfolio manager at several hedge funds focused on the technology sector — specifically software, payments (where I was introduced to blockchain 5 years ago), and internet. Previous to Parcl, I was a Portfolio Manager at Force Hill Capital Management, where I managed a portfolio of over $500M focused on growth technology. I have also held previous roles as a Portfolio Manager & Senior Analyst at Millennium, a VP at Barclays and an associate at Lazard Capital Markets.
Kellan Grenier: I'm the current Co-Founder, COO & Head of Strategy at Parcl. I have nearly a decade of experience as an investment analyst in TradFi, most recently working at a Long/Short TMT-focused Hedge Fund. Previously, I served as a VP at the global investment bank, Nomura, as a research analyst. I have been involved with the crypto & blockchain space for over five years, analyzing and investing in various tokens & Web3 projects.
Jason Lewris: I'm the Chief Data Officer at Parcl. Before joining Parcl, I was a Senior Data Scientist at Microsoft specializing in neural network architectures. Before Microsoft, Jason served as a Data Scientist/NLP specialist at Deloitte, having developed RegExplorer by consuming federal, state, and global regulatory information and then applying a custom ML to enable cross source indexing at scale.
Can you give us a walkthrough of the platform and how it works?
Parcl is a digital real estate protocol built on Solana, a blockchain specifically designed to host decentralized and scalable applications. The Parcl Protocol allows users to invest in and trade-specific geographical real estate markets, enabling directional investment and hedging strategies in this traditionally opaque and walled-off asset class. An individual Parcl is a digital representation of the price per square foot/meter in each real-world geographic area, collateralized by crypto assets.
How is Parcl disrupting the real estate investment market?
Parcl is a synthetic asset protocol, built on and backed by Solana, that is on a mission to deliver real estate to everyone. The Parcl protocol allows users to invest in a digital square foot of real estate in neighborhoods worldwide. It does so by allowing for the creation of synthetic "Parcls". Parcls are tied to a proprietary valuation index (Parcl Price Feed or PPF), representing the median price per square foot/meter within each real-world neighborhood boundary. The PPF continuously tracks the underlying price movements of the real estate assets represented by each Parcl geo-boundary, and real-time price updates flow into the smart contracts via an oracle.
With Parcl's blockchain-based trading system, users can benefit from broad (or highly granular) exposure to the world's most desirable real estate markets. Parcl requires no minimum investment, is highly liquid, and carries low transaction fees, enabling investors to trade their favorite neighborhoods just like they trade Bitcoin, Ethereum, or other crypto assets.
Parcl got a $7.5M strategic funding, how excited are you about this funding and how will it be used, any more opportunities for investors?
We were thrilled by this latest funding round. New investors include Fifth Wall, JAWS, Hack VC, IA Capital & Eberg Capital, Big Brain Holdings, and new angel Santiago Santos. Existing investors made up the majority of the round, including Archetype, Dragonfly, Not Boring, Solana Ventures, and FJ LABS. The funding will help accelerate growth as we set our sights on further expansion, including key real estate, data, and software partnerships. IA Capital & Eberg Capital will be critical in helping shape our larger data vision.
Who are your key partners across the industry, do you have more opportunities for partnerships?
We recently launched the Parcl Homeowners Association Giveaway in partnership with the Suh Family Foundation, a non-profit founded by Super Bowl champion Ndamukong Suh and his wife Katya. Parcl and the Suh Family Foundation have partnered with each other to provide one lucky winner with a down payment on a home worth up to $100,000, including a full year's worth of mortgage and tax payments.
Additionally, Litquidity, the Founder and CEO of Litquidity Capital and Packy McCormick, the Founder of Not Boring serve as advisors to us.
At what stage of development is the Parcl platform and what is next on your roadmap?
We recently launched our second testnet on May 23rd. Earlier this year, we held our first testnet (over 70,000 unique visitors and over 300,000 on-chain transactions on Solana's devnet) and launched the Homeowners Association (HOA) NFT, a collection of 7,777 unique NFTs inspired by four cities where we are launching some of our first Parcl markets – Miami, Phoenix, Los Angeles, & New York. The HOA NFT sold out within just 30 minutes of going live.
When the Parcl Protocol launches, eligible NFT holders will have first access to the protocol.
We'll be launching a rent giveaway next month as well, with more details to come.